Quieter Rides with Model 831 Sound Level Meter
MORE than Just a Sound Level Meter
Ideal for Automotive & Vehicle NVH Development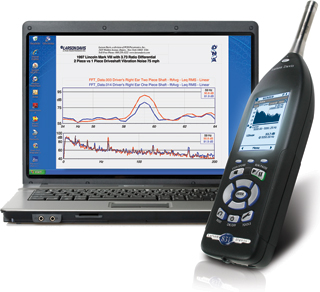 FFT Analysis
Tonality & Masking Noise Measurements
Sound Recording (.wav)
Time History Data Recording
Acoustic Mapping
Quality Control – Pass/Fail Functionality
Advanced Analysis with DNA Software

Portable Acoustic Measurement & Analysis
The Larson Davis 
Model 831 Sound Level Meter
 provides portable, single channel acoustic test and analysis capability. When combined with the Larson Davis SLM Utility G4 or DNA software, you have very simple tool for automotive NVH evaluation and development.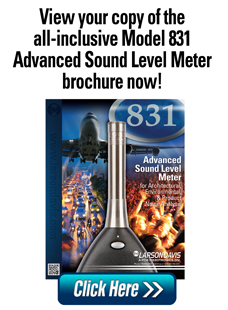 Test engineers can use the Model 831 to:
Field test and compare vehicle sounds based upon 1/3 octave bands or FFT results
Record .wav files for later analysis and replay
Measure interior masking noise of a vehicle
Identify tonal noises of a vehicle
Evaluate a new noise signature against an established baseline or NVH Target
Build a quick sound map of a panel or subsystem
Document interior reverberation times from various sound package
Generate quick and easy reports from test track data
Production or End-of-Line Acoustic Testing
The Model 831 provides a simple, low cost real-time DSP and acoustic analysis tool for qualifying and inspecting a wide range of products and sub-assemblies. The Model 831 can be easily mounted on the line with an extension cable to locate the microphone as needed or inside special test chambers.
This simple instrumentation and analysis approach provides a method to:
Measure noise and send logic out for pass/fail assessments
Download data for archival and for future traceability
Identify alignment errors, missing components, cracks, defects, and other anomalies
Obtain immediate diagnostic feedback regarding specific component failure using FFT or Octave band analysis
Eliminate warranty costs with the ability to root cause concerns identified
Record .wav sound files to help correlate product acceptance metrics to subjective customer perceptions